Carolyn & Bryan's Country Garden Spring Wedding
When you got engaged in the Canadian Rockies alongside a frozen lake as the sun rose, you're going to want a wedding that's full of natural beauty and that's exactly what Carolyn and Bryan had. Their country garden themed spring wedding also included a few Easter details and plenty of live music.
Finding 'the one'
The first job on the wedding planning to do list for Carolyn and Bryan was to find the perfect venue for their celebrations. Luckily for them, Upwaltham Barns offered everything they wanted and more.
"We always loved the idea of a barn wedding, somewhere where you would be able to make the day your own. Upwaltham Barns was the second venue we visited and it was love at first sight."
"We loved that we could have the ceremony and reception all in one wedding venue and it would be exclusively ours for the day. The barns, gardens and countryside are all gorgeous, making a beautiful backdrop for our day. Everyone at Upwaltham Barns is so friendly and welcoming, we just had a good feeling and knew it was where we wanted to become Mr & Mrs!"
Styling Upwaltham Barns
Carolyn and Bryan were keen to keep their wedding decoration quite minimal, letting the beautiful barns speak from themselves. However, they did add lots of personal details and armfuls of gorgeous flowers.
"One of my bridesmaid's mum is a talented florist so we knew straight away we would work with Summer Flowers. We had two milk churns either side of the door way to the ceremony barn filled with big floral displays, as well as demi john glass jars, which used to be my Grandads, either side of the mirror in the courtyard."
"The chandeliers in the South Barn were decorated with foliage, with the one above the top table having additional hydrangea flowers. We wanted something quite natural and country garden in style, so lots of greens and silver foliage mixed with white roses, blue thistles and wild flowers. On each table, we added hurricane glass vases filled with flowers and at the end of the evening we gifted these as a thank you to close family and friends"
Carolyn and Bryan also added bunting above the entrance to the barns and a large vintage mirror in the courtyard served as an order of the day and welcome sign. Laser-cut wooden place names doubled as favours and, as a nod to the Easter weekend, there were a few bunnies, an Easter tree and mini eggs on the tables too.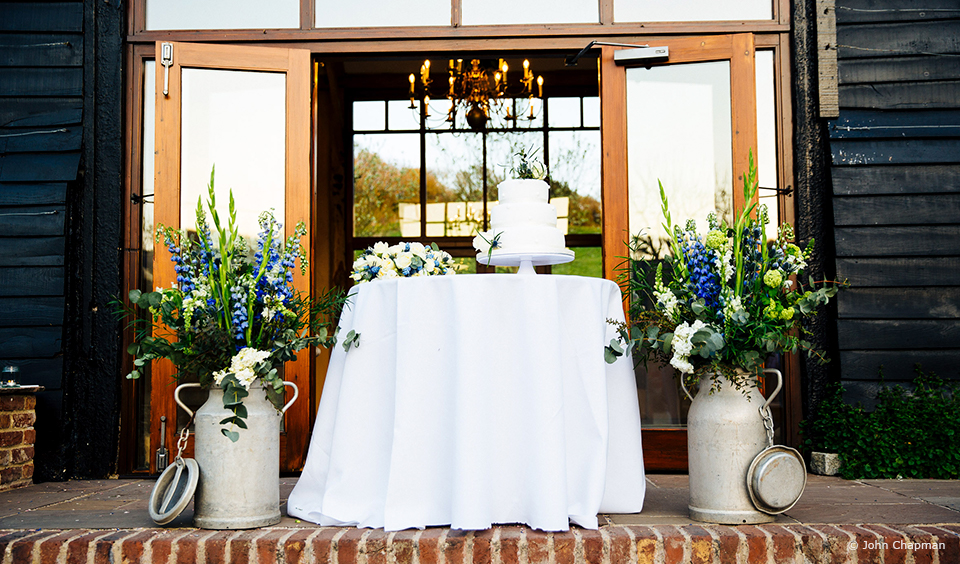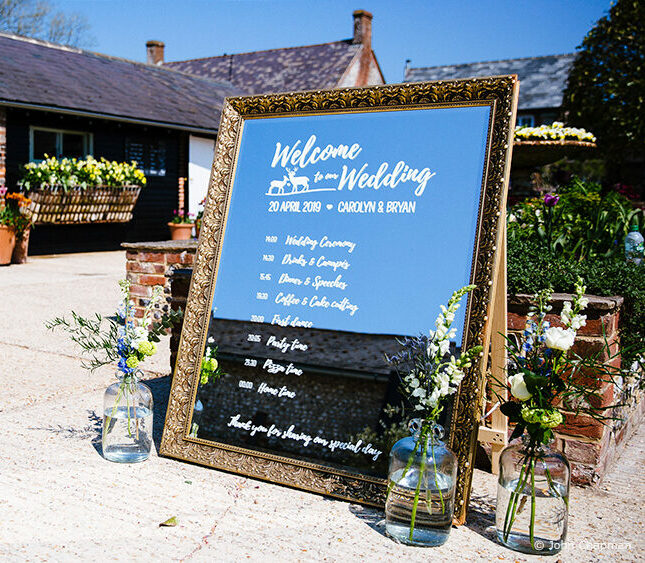 Dressing for the occasion
"I visited my local boutique, Helena Fortley Bridal, with my mum and maid of honour and the whole experience was wonderful. My dress was by Madison James and I loved it as soon as I tried it on."
Carolyn also wore blue Charlotte Mills shoes and beautiful vintage jewellery borrowed from both her Grandmas. Her seven bridesmaids wore dusty blue maxi dresses in a variety of styles with silver shoes.
"On the day, Tea & Trim styled our hair and makeup and even with such a large bridal party, it was a fun and calm morning. I wore my hair in a loose up-do with a plait down one side and finished my look with a hair vine and fingertip veil."
Bryan and his groomsmen wore mid-blue tweed three-piece suits from Moss Bros, which they wore with burgundy shoes and dusty pink tweed ties. A perfect lightweight choice for a spring wedding!
The wedding day
Carolyn and Bryan took their vows in the East Barn and the ceremony had lots of personal touches.
"My Dad walked me down the aisle, a close friend and my oldest brother did a couple of readings. As we signed the register with both our mums as witnesses, my other brother played a selection of acoustic songs."
Following their wedding ceremony, the newlyweds and their guests enjoyed a fabulous drinks reception, complete with Pimm's, beers and prosecco alongside halloumi fries and mini fish and chips. Carolyn and Bryan's wedding breakfast, provided by Nibbles2Nosh, was another triumph and featured braised peppercorn steak and a selection of tasty puddings.
"We knew after our wedding experience evening that we couldn't pick just one dessert, so we opted for the trio – chocolate brownie, fruit crumble and lemon posset. They were absolutely delicious."
Carolyn and Bryan took to the dancefloor to the sound of Coldplay's 'Yellow' for their first dance. A song chosen as they'd seen Coldplay in concert the day after they got engaged!
"Our band, Fraudio, played during the evening and drinks reception and they were brilliant. They kept everyone up and dancing the whole evening and even took some great photos!"
Wedding tips & advice
"Definitely stay at Jasmine Cottage! We were so glad we did and it's so beautiful. We had breakfast in the gardens at Upwaltham Barns the following morning, reminiscing about our day and it was such a lovely way to begin life as husband and wife."
"We also booked quite far in advance and tried to do one big thing each month so we weren't overwhelmed with the planning. The team at Upwaltham Barns were so helpful and they made sure the day ran like clockwork which allowed us to just take it all in. If we could do it all again, we wouldn't change a thing."
For more planning inspiration, take a look at these picture perfect locations at Upwaltham Barns and don't miss these DIY wedding ideas to help you save money on your special day. To really kickstart you wedding planning, why not book a visit? We look forward to welcoming you!
Images courtesy © of John Chapman Photography
Upwaltham Barns
The heart of the South Downs
Want to know more about weddings at Upwaltham Barns? You can check our available dates, view our gallery or book a visit by using the links below.